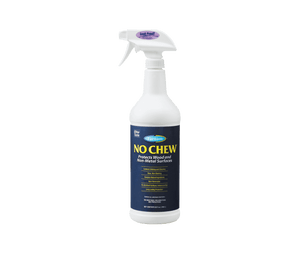 Farnam No Chew™
---
---
Help put an end to your horse's unwanted chewing habits with No Chew™ chew deterrent. Just spray on all wood surfaces -- indoors and out, plastic and other non-metallic surfaces, such as feed troughs.
Bitter taste helps control cribbing and chewing
Dries quickly and is not affected by moisture once it dries
Can be applied in wet weather
Clear, non-staining formula* contains natural ingredients
Non-flammable, no petroleum distillates
Directions for Use
General Information: Follow instructions carefully for each use. Various surfaces have different porosities and must be treated accordingly for best results. Check surfaces periodically to determine when re-treatment is required. Product may be used indoors or outdoors. Can be applied outdoors to wet surfaces and still be effective, but for best results, apply in dry weather to ensure maximum surface penetration. Only a short drying time is required and rain will not affect Product once it is dried. Clean up with soap and water.
Use rates for wooden structures, painted or unpainted.
Spray on until surface is uniformly wet. This will usually provide long lasting results. Length of protection will vary, however, depending upon the surface porosity or type of paint. A second coating may be necessary on unpainted surfaces in order to completely fill pores. Check surfaces periodically depending on use and weather. Reapply as necessary.
Use rates for plastic and other non-metallic surfaces, such as feed troughs, etc.
For best results, spray once a day over three days. However, since plastics can be either porous or extremely dense, trial and error may be necessary to determine the number of coats required. Reapply as necessary.
DO NOT APPLY TO METAL SURFACES.
---
We Also Recommend